Featured Decorative WallPanels >>Dessert Seamless Glue-up 3D Wall Panels from Decorative Ceiling Tiles
Decorative Wall Panels
Do you want to add some dimension, color, and designer chic to your family room, media room, basement, porch/patio, bedroom, business entrance or waiting room?  Look no further – budget friendly decorative wall panels will transform any room with the added benefit of superior sound absorption.  We have said it before and will say it again – you can take your room from plain to beautiful in just hours.  Milan, over at Decorative Ceiling Tiles suggests sticking to faux leather tiles, faux tin tiles, or Styrofoam tiles if acoustical issues are important to you.  If not, real tin panels are always elegant and timeless.
Unless you are decorating a man-cave or an enclosed media room, we would probably recommend using decorative wall panels for the visual impact of creating a focal point rather than paneling your entire room.  Most of the tiles can either be ordered in a wide variety of colors or they can be painted to match just about any interior.  We spend a lot of time researching current trends and styles so we recommend thinking gray, gold, and neutrals – this year's top trending colors. And of course in interior design, black and any shade of white never go out of style!  Another bit of advice, although intricate patterns with lots of detail work well on ceilings, stick with larger patterns and simpler designs  with lots of dimension for your walls.
Below here are a few of our favorite decorative wall panels:
135 Faux Tin Decorative Wall Panel
We love this red panel for any Asian inspired decor and can absolutely picture it in an entrance to an Asian restaurant or other Asian establishment.  
Sahara DCT LRT12 Faux Leather Decorative Wall Panel
This vertical wavy pattern is both peaceful and organic. We envision it as a backdrop to a water element or in a yoga studio.
R 25 Styrofoam Copper Patina Decorataive Wall Panel
This copper Styrofoam decorative wall panel with great dimension would be great as a focal wall in a kitchen with hanging copper cookware or on a porch, patio, or any room with a brick flooring. Add a copper windchime or copper fire pit to tie it all together.
2404 Classic Floating Geometry Tin Wall Panel
We like this simple contemporary geometric design as on trend alternative to a mirror wall. The tin panels, much like a mirror will reflect light and give a clean, sleek modern look, but has the added benefit of creating warmer more elegant style, plus you don't have to be reminded every time you walk by that you are having a bad hair day.
Create this look!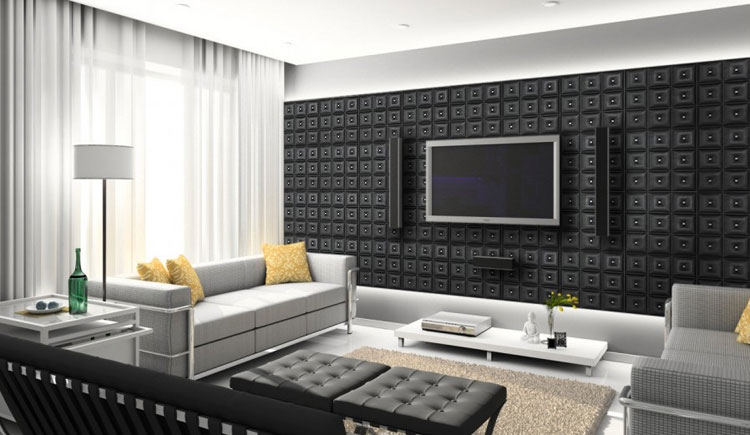 Contemporary Family Room
Decorative Wall Panels : DCT LRT19 Faux Leather Ceiling Tile – Black Diamond with Crystals
Sofa: Designer Sofas (Almost any of these will work – mix and match. Also consider substituting 2 arm chairs for one of the couches)
Arm Chairs: Camden Black Lounge Chair, Chelsea Black Leather Armchair, more designer armchairs and lounge chairs
Rug : Nebenun Grey-White Rug
Lamp:  Alpha Lupi White Floor Lamp

Side Tables: Ben Brown Side Table, Gordon Console Table
Coffee Tables: Max White-Black Coffee Table, Damian Coffee Table White-Walnut
Ottoman: Colada Black Leather Ottoman, Camden Black Ottoman,  Wembley Dark Grey Ottoman
Television: 50″ Flat Screen TV
Create this look!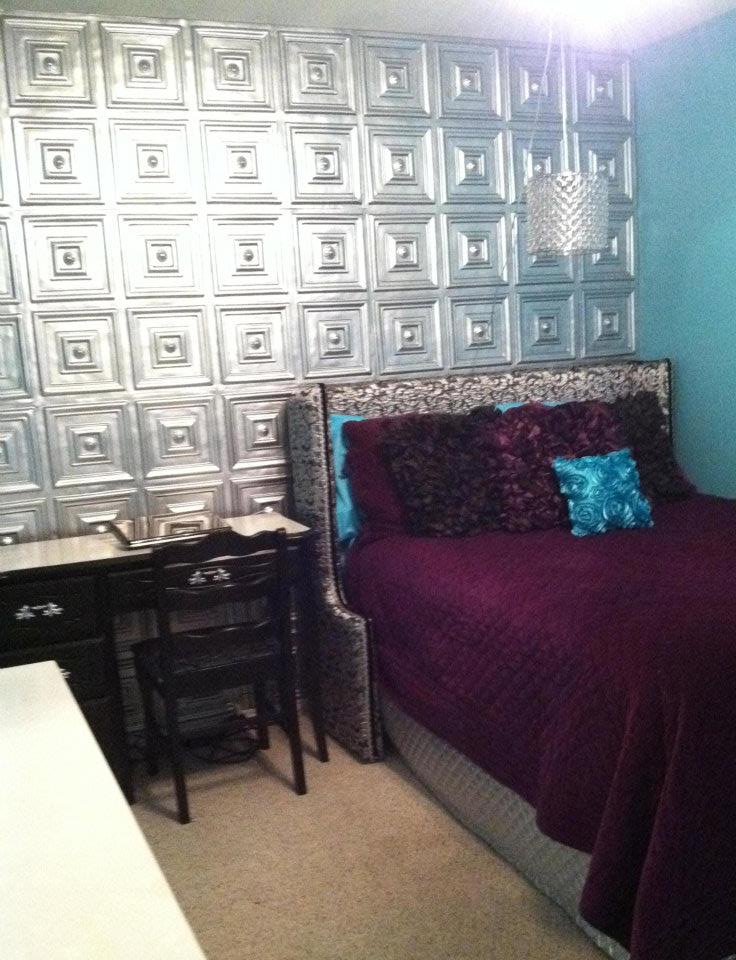 Teen Bedroom
Decorative Wall Panels: 112 Faux Tin Ceiling Tile Glue up 24×24
Bedding: Twin Faux Silk and Flocking Zebra Printing Black / Purple Comforter Set, Solid Rich Purple Microsuede Comforter Set, City Scene Branches Purple Duvet set, Purple Velvet Bedding Comforter Bedding Set
Desk:  Newport Cottages Provence Collection Students Desk (with black finish)
Lamps: Chandelier in Lavender Topaz, Molly 'N Me Orb Light – Crystal, Maura Daniel Chloe Sphere Silver, Lumiera Black Chandelier
Create this look!
Living Room: We chose this picture because it would be so easy to fabricate and install a similar art wall at a fraction of the cost using decorative tin wall panels.  Plus, for those of you who live in natural disaster zones, they will not break or cause harm of any sort should an earthquake or hurricane or tornado hit your home.

Decorative Wall Panels: 2404 Tin Ceiling Tile – Classic Floating Geometry
Remember when re-creating this wall art, one panel can be used for 4 pieces.  Since the panel is 24″ x 24″, you can make each strip 20″ x 4″ – keeping your costs super low.  Also, consider rounding the corners.  We think a corner rounder tool should do the trick, at the very least to score the tin so you can cut it with a scissors or knife.
Console Table:  Contemporary Fireplace and Media Console, Bari Sideboard, Ascoli White-White Lowboard Set
Sofa: Portobello Dark-Grey 3-Seat Sofa (Sliders)
Want to know more? Want to see more panel designs and style options?
Installation Information | Decorative Tin Wall Panels | Faux Tin Wall Panels | Foam Wall Panels | Faux Leather Wall Panels
Make it a beautiful day!