Featured Tin Ceiling Home Decor > Large magnet board created from a gorgeous antique tin ceiling tile from DriveInService
Tin Ceiling Tile
Home Decor, 
Frames, Mirrors, Bulletin Boards & Accessories
I have said it before and will say it again — I love decorative ceiling tiles.  In fact, ceiling tiles have almost become an obsession.  I love tin tiles on ceilings.  I love tin panels and faux leather tiles on walls as decorative panels.  I even love decorative tiles used instead of headboards.  I know tin tiles are versatile but never realized just much style they can add to practical products we all use  day in and day out. A single tin ceiling tile can transform an ordinary bulletin board into a beautiful piece of art.  Who knew magnet boards could be so pretty and I am seriously considering grouping a ceiling tile chalkboard and tin ceiling frames together in my family room as my entrance statement piece.  I love the fact the tiles can compliment any home decor from vintage chic to art deco to ultra modern and can be painted or bought to match any color palette.
This page is meant to inspire. Inspire creativity.  Inspire easy yet beautiful solutions to practical conundrums.  Inspire the artist within each of us.  I hope you enjoy it!
Tin Ceiling Tile Frames
Tin ceiling tile frames were all the rage — you know they have gone main stream when you can buy knock offs at Pier 1 Imports and on Amazon.com. But we are rather pleased that the knock-offs are disappearing from the shelves and authentic fabulous looking ceiling tile frames are once again "special" finds.
Right now, if you are not into DIY projects, Etsy is THE place to turn for handcrafted tin ceiling tile mirror and picture frames.
Tin Ceiling Tile Mirror and Picture Frames
I especially like the way many of the designers rolled the the center metal cut-outs. Best of all, ceiling tile frames are a very affordable and easy to execute DIY project. Using a box-cutter knife
simply cut out the 4 middle tiles and glue an 8×8 mirror or photo or piece of art/poster to the  back of the tile. Hang on wall.  Many of the artisans back their tiles onto wood.The truth is tin tiles are light enough to be hung directly on your wall with removable Picture-Hanging Strips  so long as you are not skimpy with the adhesive! Alternatively, if you really do not want an oversize frame, choose a tile with a repeating pattern and then cut the tile into smaller 12″ x 12″ frames or even 6″ x 6″ frames. Remember these tiles can be ordered in a myriad of finishes or you can paint them yourself.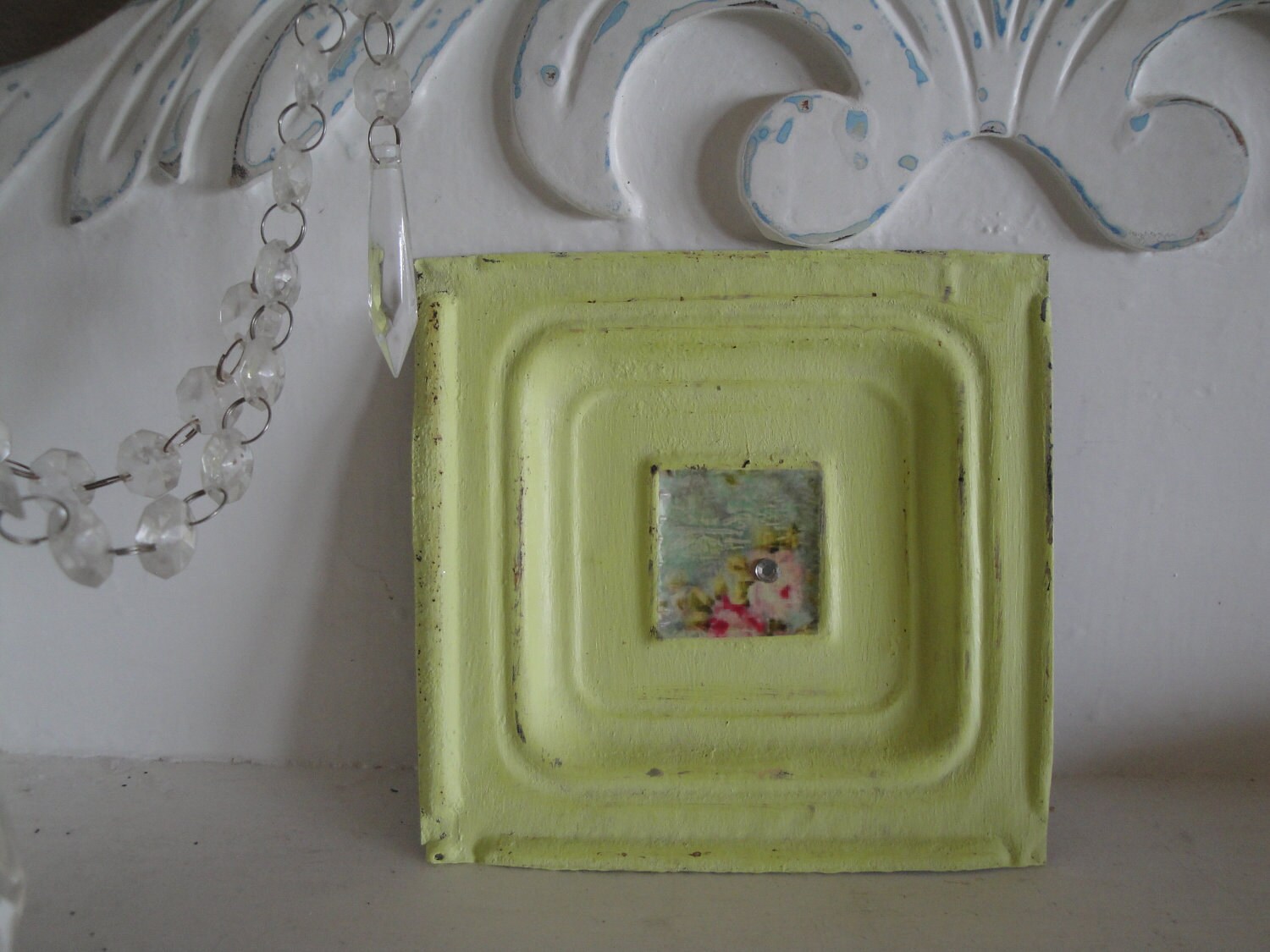 Where do we buy our tiles?  We always buy our ceiling tiles from Milan over at DecorativeCeilingTiles.net.  Not only is Milan a great guy,  he is very knowledgeable and accommodating.  I just checked with him and he said not to worry about the minimums – he will honor any order, big or small from our visitors!
We also love these up cycled ceiling tile frames and mirrors from BigSkyVintageDecor
Ceiling Tile Home Decor & Accessories
Simply attach / glue a vase to the ceiling tile.   (The only reason we are not recommending using fresh flowers is because we cannot find a way, once attached, to remove the vase for cleaning — if anyone has any ideas, please, please email us.)
Ceiling Tin Memo Boards,

Bulletin Boards

,

and Dry Erase Board

s

We also love Ruffled's idea of using a tin ceiling tile as a seating board at a wedding, mitzvah, quinceanera,  sweet sixteen, anniversary or any celebration.  Again, you can finish the board in any color you choose. We found these fabulous ceiling tin memo boards on Etsy but it is easy to do it yourself for a fraction of the cost!  Be sure to order the tin plated steel tiles and then paint them yourself and either hang them with ribbon as shown or hang them directly on your walls with removable Picture-Hanging Strips  (Note: The painted aluminum tiles will not hold a magnet)  I just spoke with Milan over at DecorativeCeilingTiles.net and again he said not to worry about  the order minimums but definitely recommends buying an extra tiles or two just in case you mess one up. These tin tiles measure 24″ x 24″   the perfect size for a large magnet board.
Simply paint this tin ceiling tile any color you wish (or leave it natural) and make your own vintage looking magnet by attaching stick-on magnets to these elegant diamond filigree connector links >> Queen Victoria #1204 Tin Ceiling Tile | Diamond Filigree Conncector Links | Stick-On Magnets
Just one caveat and a few details – be sure to order the tin plated steel tiles and then paint them yourself.  (The aluminum tiles will not hold a magnet).  Also, I just spoke with Milan over at DecorativeCeilingTiles.net and he said not to worry about  the order minimums – he will take good care of Party Idea Pros visitors. These tin tiles measure 24″ x 24″  –  the perfect size for a large magnet board with three hung or lined up against a wall probably enough space for seating for a medium size wedding. Additionally, many of the tiles are also available in 24″ x 48″ if you are hosting a large event or have a particularly long and thin vertical or horizontal space.
Tin Tile Magnet Boards
Below are a few magnet boards available on Etsy to use as inspiration and to get your creativity flowing.  If you do it yourself it will be significantly less expensive!…
Decorative Tin Ceiling Tiles
Here are a few classic tin tiles we think would be perfect for  magnet seating boards.
Magnets
Add some classic or cute magnets!
New!  We just found some great photos of ceiling tile magnet boards.  Although the tiles used in these photos are mostly salvaged tiles, there is absolutely no reason to search for months when you can quickly and easily purchase them from Milan and create your own finish – again be sure to choose tin plated steel (not aluminum) or use magnetic paint to finish the tiles.
Not so into DIY? You can buy great rustic upcycled ceiling tile memo boards!
Ceiling Tile Framed Bulletin Board
Prefer a bulletin board to a magnet board? Simply cut a hole in the center of the tile and glue a cork board bulletin board to the back of the tile.Since the tiles are 24 x 24, these 14 x 14 fabric covered boards would be exquisite if framed by a beautiful antique looking tile. Since these tiles do not need to be magnetic you can either choose to paint the tile yourself or pick from one of the fabulous finishes available in most styles.  One more thought — to make life even easier, you could mount the bulletin boards directly on top of the tile rather than using the tile as a outer frame.
Ceiling Tile Dry Erase Boards and Chalkboards
Rather than mounting cork board to the back of your tile cut-out, mount acrylic squares or even square pieces of glass.  You might also want to attach a light neutral  colored background to the back side of the glass — maybe burlap or even a white felt square. Now scribble all over the glass with dry erase markers
. Wipe clean with a dry erase eraser or even a damp rag.  How easy and cool is that! (Again — another option requiring one less step is to mount the acrylic square or glass on top on the tile.  I haven't yet decided, I may even like this idea better depending on what color tile you want to use.)   Update:  After researching the ceiling tile chalkboard (see below), I did a quick search for dry erase paint and guess what there actually is such a product.  After reading the reviews, it seems that for the erasable properties to work well you need to apply many layers of paint but since you are covering such a small area, my gut says if you are patient and follow the directions, the dry erase paint should work just fine.  Like with the chalkboard project, choose a tile with a large flat center.
A ceiling tile chalkboard is even easier — all you need to do is choose a tile with a large flat center and paint the center with chalkboard paint
.  Although the picture shows the tile framed in black, personally, I think the frame detracts from the tile.  I would just hang the tile directly on the wall with  removable Picture-Hanging Strips or nail them into the wall with cone head nails.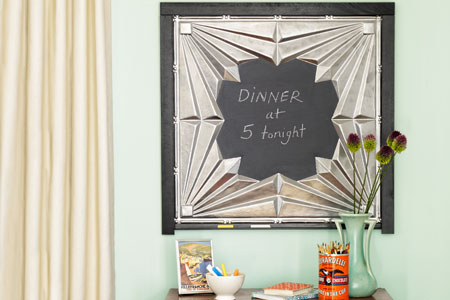 Ceiling Tile Wall Art
Create entire art walls using tin ceiling tiles at a fraction of the cost.  Remember when re-creating this wall art, one panel can be used for 4 pieces.  Since the panel is 24″ x 24″, you can make each strip 20″ x 4″ – keeping your costs super low.  Also, consider rounding the corners.  We think a corner rounder tool should do the trick, at the very least to score the tin so you can cut it with a scissors or knife.
We love this very fun DIY dragonfly made using 1-2 ceiling tiles (depending on your desired size), an old chair leg, and discarded keys. We think this re-purposed art would be perfect for adding a bit of whimsy to most outdoor spaces. You can find all the directions here.  We would definitely suggest choosing an aluminum ceiling tilerather than tin plated steel.  It is pre-finished with a coating that should stand up to most meteorological conditions and even if it does get a bit weathered, it is ok – that's the look you are going for.  Plus, decorative aluminum tiles are available in lots of colors so you can choose a classic antique white or fabulous emerald green or sophisticated sapphire blue. You might even consider solid copper tiles.  Our favorite designs for this application are probably delicate daisies or butterfly needlepoint.  Please send us photos of your finished pieces – we would love to see them and share them.
Make it a Beautiful Day!