Decorative Ceiling Tile Ideas
We admit it — we are officially obsessed with with decorative ceiling tiles. We love the designs, the colors, the finishes, the textures, their versatility, the way the natural play of light and shadow reflect off the metal, and mostly that they can transform a room from plain to beautiful in just hours.
So please humor us as we go on and on and tell you more than you ever wanted to know about decorative ceiling tiles.
Why Use Decorative Ceiling Tiles?
Why settle for dull, plain, or ugly popcorn ceilings when there is a large selection of beautiful, affordable, and easy to install decorative ceiling tile options available for quick delivery and installation wherever you live including the United States, Canada, Puerto Rico, the UK, Ireland, and Australia.
With a many designs and styles to choose from, ceiling tiles can transform your home from plain to beautiful in just hours. Plus, these stunning decorative squares can now be enjoyed without looking up. Use ceiling tiles on your walls, as kitchen and bathroom back plashes, as photography backdrops, and even on your tables as you entertain friends and family.
What are Decorative Ceiling Tiles?
Decorative ceiling tiles are available in Tin, Solid Copper, Aluminum, Faux Tin, and Foam Ceiling Tile (Styrofoam / Polystyrene) options. Once you choose which product suits your project and budget, you can then shop for a style and finish that fits the look you want to achieve.
In addition to individual ceiling tiles, many installations also include filler and molded fillers or cornices. Most often fillers are used as a border around the room much like a framing mat is used when framing a picture however fillers can also be used as an integral part of the design element. Using a filler can cut down the project costs by allowing you to buy fewer expensive tiles yet still achieve the wow factor. Add molded fillers to your design for extra elegance and to frame your space.
Where to Use Decorative Ceiling Tiles
Photos courtesy of DecorativeCeilingTiles.net
Decorative ceiling tiles can be installed on both standard ceilings and drop ceilings. They also make great back splashes, fireplace surrounds, stove hood adornment, photography backdrops, picture and mirror frames, wainscoting, and bar fronts.
The specialty tiles pictured below can be painted any color and would look especially cute in child's room, bathroom, kitchen or in any room you would like to add an element of fun or whimsy. They would also look great framed and hung as wall decor or used for headboard that coordinates with your child's bedding!
New!
We love this idea of using tin ceiling tiles to create a magnet board island as the centerpiece of your kitchen. Consider using 0607 Tin Ceiling Tile – Classic – DELICATE DAISIES, 2425 Tin Ceiling Tile – Moroccan Magic, or 2404 Tin Ceiling Tile – Classic Floating Geometry for a simpler, more geometric look. Caveat: Only the Tin Plated Steel tiles will work for this application. Simply prime and paint the tiles to match your decor!
Creative Uses for Decorative Ceiling Tiles
PartyIdeaPros.com recommends using the hammered filler to create

stunning placemats

and table runners. If you buy the 12″ x 12′ roll simply cut the roll into 12″ x12″ squares or 12″ x 18″ rectangles. Each placemat will cost you under $3.00 for the milled roll and under $6.00 each for both the brass and copper rolls. (Be sure to cut the rolls using a straight edge guide like a metal ruler or a t-square.) If you choose the hammered squares, each square can be cut in quarters plus the squares are available in multiple finishes with the cost per placemat dependent on which finish you choose. If you have any scrap metal available consider creating matching napkin rings!
12′ ROLLED HAMMERED FILLER- MILL
Ceiling Tile Wall Art
Create ceiling tile framed art work and mirrors easily and inexpensively.
Check our our newest page with lots of creative ideas and inspiration: Tin Ceiling Tile Frames, Mirrors, Bulletin Boards & Home Decor Accessories
Using a box-cutter knife
simply cut out the 4 middle tiles and glue an 8×8 mirror or photo or piece of art/poster to back of tile. Hang on wall.
You can even use tin ceiling tiles to fabricate an entire art wall!
To create this look check out: Decorative Wall Panels
Use 2404 Tin Ceiling Tile – Classic Floating Geometry
Remember when re-creating this wall art, one panel can be used for 4 pieces. Since the panel is 24″ x 24″, you can make each strip 20″ x 4″ – keeping your costs super low. Also, consider rounding the corners. We think a corner rounder tool should do the trick, at the very least to score the tin so you can cut it with a scissors or knife.
More Photos of Ceiling Tiles as Wall Art!

Tile wall art photos courtesy of: dishfunctionaldesigns.blogspot.com
Decorative Ceiling Tile Headboards
The shine of this tin ceiling tile gives the entire room the bit of sparkle needed when the bed is dressed in classic white linen.
photo courtesy of aimeeherring.com

To recreate this look consider using 0610 Tin Ceiling Tile – Classic – GRANDMA'S QUILT, or 0604 Tin Ceiling Tile – Classic – PRINCESS VICTORIA
And this headboard — well it is both stunning and unique and can be created with any style decorative ceiling tile, including tin tiles,  foam or faux leather ceiling tiles
Or try to replicate the look by using one of these tin ceiling tiles. Choose a crackled white or crackled ivory finish or paint it yourself to match the rest of the headboard, exactly.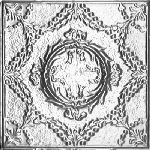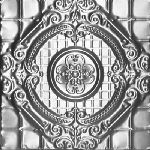 New! Check out our new pages devoted to DIY Headboards and Ceiling Tile Headboards
Tin Tile Bed
Genuine tin tile beds are no where to be found today but we did come across this fabulous headboard, a true standout piece, destined to be a favorite piece for years to come. This Kelly Clarkson Home headboard boasts six square, intricately carved panels adorned with delicate floral detailing reminiscent of charming vintage ceiling tiles. Enclosed by a substantial, elegantly molded frame, this headboard will offer a timeless touch to your bedroom. Crafted from the finest solid wood, it exudes a rustic charm with its weathered gray finish, evoking the essence of a French countryside aesthetic. So versatile, it will seamlessly complement any bed frame, including an adjustable bed. 
Alternatively, as we said previously, DIY! There are some stunning tin ceiling tiles available. Choose between true vintage tiles or buy them new for a greater choice of styles and colors!
Interested in replicating the bed frame pattern on your ceiling or making coordinating picture frames, or planters, bulletin boards, trash cans, or just about anything else you can imagine?
Faux Leather Ceiling Tiles
New and Fabulous!
These new faux leather ceiling tiles perfectly resemble real leather and are absolutely stunning. Their soundproofing qualities make them ideal for use in a venue that has a tendency to get too loud since they will help absorb the sound.
Party Idea Pros can envision using these tiles regularly to build set backdrops that create the feel of a pub, movie theater, "man cave", library, or even an out of this world look. Also think walls, headboards and photography backgrounds. We love, love, love these ceiling tiles!!!!
We just realized faux leather ceiling tiles would also make an extremely cost effective alternative to a leather headboard. Plus, for use in a bedroom they have the distinct advantage of helping to absorb/muffle sound! The pictures below are meant only to inspire you — although none have actually been created from faux leather ceiling tiles (the first headboard is made from polystyrene ceiling tiles), all can easily be duplicated using leather look-alike ceiling panels — and in just hours you can completely transform your bedroom!
Photos courtesy of builders.co.za, jamieherzlinger.com, flickr.com, archprofile.net, and archdeco.net
DIY Ceiling Tile Home Decor
Using a tin ceiling tile as inspiration, This Old House senior technical editor Mark Powers created a planter box to hold a tabletop tree. See a step-by-step on How to Build an Embossed Metal Planter similar to the one here. Choose from any of the tin tiles or faux tin tiles available through DecorativeCeilingTiles.net
Photos Courtesy of thisoldhouse.com
Check out these ceiling tiles recycled & re-purposed into lamp bases
Source: dishfunctionaldesigns.blogspot.com
Recycle old garage sale tables, cabinets, hutches, and just about any other pieces of furniture by replacing surfaces with decorative ceiling tiles.
photo courtesy of robomargo.com and junkmarketstyle.com | Cabinet photos courtesy of dishfunctionaldesigns.blogspot.com
Ceiling Tiles as Convention and Special Event Decor
Use decorative tin or faux tin ceiling tiles to create an intimate space in large party venues such as conventions, weddings, quinceaneras, bar and bat mitzvahs, and sweet sixteen celebrations. Remember the tiles can be painted to match your party decor.
photo courtesy of betterthantin.com
Ceiling Tiles as Photography Backdrops
Use decorative ceiling tiles to create interesting photography backdrops and outdoor wedding photography backdrops
Decorative Ceiling Tile Chargers Make Unique Wedding Place Settings!

(Photo courtesy of @amorology)
Use Decorative Ceiling Tiles to Create Magnetic Seating Charts & Escort Card Boards  
Even West Elm has joined the ceiling tile movement and styled a section of their showroom with a mosaic of decorative ceiling tiles.
To create the look simply order the Savannah Square Aluminum Tile #2402 and either Lincoln Square Tile 1211 or even Madison Square Tile 1201. We are not sure what color to recommend to replicate the look – we would probably DIY or if you are as inept and un-handy as we are, you can always ask Milan, at DecorativeCeilingTiles.net, to create a custom pearlized color for you.
Keep checking back as we continue to discover unique and festive alternative uses for decorative ceiling tiles.
How to Install Ceiling Tiles
And finally, be sure to check out our HOW2 guide to Decorative Ceiling Tile Installation
Make it a Beautiful Day!