[ftc_disclosure type="disclosure"]
Ceiling Tile Fillers, Molding, and Accents
Many ceiling tile installations and designs also include filler and molded fillers or cornices to add interest and elegance. Most often fillers are used as a border around the room much like a framing mat is used when framing a picture. Ceiling tile fillers, however, can also be used as an integral part of the design element. Using a filler can cut down the project costs by allowing you to buy fewer expensive tiles yet still achieve the wow factor. Add molded fillers to your design for extra elegance and to frame your space.
The hammered filler also makes stunning place mats and table runners. If you buy the 12″ x 12′ roll simply cut the roll into 12″ x12″ squares or 12″ x 18″ rectangles. Each placemat will cost you under $3.00 for the milled roll and under $6.00 each for both the brass and copper rolls. (Be sure to cut the rolls using a straight edge guide like a metal ruler or a t-square.) If you choose the hammered squares, each square can be cut in quarters plus the squares are available in multiple finishes with the cost per placemat dependent on which finish you choose.
12′ ROLLED HAMMERED FILLER- MILL
Photo Inspiration

Here are a few photos illustrating how to incorporate ceiling tile filler and moldings into your decorative ceiling tile design. Molding can also be added to walls to add dimension and a touch of classic yet modern elegance.
New & Inspired!
We love Shawn Gauthier explanation of how to add style with ceiling molding:
"Molding is what you make of it. Instead of traditionally applying it only where the walls meet the ceiling, have some fun with it by creating designs on the ceiling itself. Don't worry about the designs being perfectly balanced across the ceiling: these diamond shapes aren't in a perfect repeat, making them all the more interesting."
And if you want to make the whole process even easier, simply order a few ceiling tiles from DecorativeCeilingTiles.net, paint them to match your ceiling and glue them up. The tiles can be easily cut with a scissors so to achieve the look of the smaller square molding simply cut out the inner square of the big tile or cut the tile on an angle to create the look of some of the odd shaped corners. (I just spoke with Milan over at Decorative Ceiling Tiles.net and he said not to worry about the order minimums but definitely recommends buying a few extra tiles for two reasons: 1.) In case you mess one up and 2.) because you will definitely want to use the extra tiles for another project such as creating ceiling tile frames or or even a ceiling tile headboard
Update
Photos Courtesy of ceilingfanss.com and RedDoorHome.blogspot.com
Here's the deal — after many hours spent researching how to attain these looks, I am finally over it. Although beautiful, these ceiling designs are definitely jobs left to the professionals. Searching for the molding alone will require me to go to a half a dozen local stores. Graph paper, or better yet, a computer program, is a must to layout the design and calculate how many feet of molding is needed. And then cutting each piece to the proper length, with the proper angle and then matching the angles … I could go on and on. Can I achieve a similar look for much less money in just an hour or two or even less? Will it be just as beautiful? Absolutely!
Create the look of the first picture for under $15.00 by simply gluing a single 24″ x24″ light weight faux tin ceiling tile to the center of your ceiling. This tile is available in many colors including white matte. To match your ceiling color exactly just paint the tile.
Use this same tile on your entire ceiling to create a simple yet multi-dimensional molded ceiling effect much like the second picture.
Still another option is to create your own design. Decorative Ceiling Tiles state of the art technology can manufacture almost any 2×2 custom tin tile you can imagine. So if you have your heart absolutely set on an octangular design, chances are Milan can create a decorative ceiling tile that will work for you. Just email him.
Be sure to add a crown molding like 25 DCT Styrofoam Crown Molding to finish the look.
Here is a picture of what R01 looks like on the ceiling. For an airier ceiling effect choose a tile with a single pattern rather than a quadratic pattern and/ or add a plain filler between tiles.

Decorative Ceiling Tile Product Reviews
Don't just take my word for it. Here are a few product reviews from people who have actually bought and installed decorative ceiling tiles for their homes or businesses:
This was the easiest project I have ever undertook, it was very easy to put these up. In hind sight I should have put the ceiling up before the crown molding since the crown molding would have really finished off the edges better, Nevertheless, white calking on the edge finished it off at the molding and it looks great. But if I had to do it over again I would suggest the ceiling first then the molding last. But it was very easy and everyone loves it.
We used this product in three rooms of our turn of the century home. It is awesome. The ceilings had previously been wallpapered, were cracked and terrible. We thought we would have to tear off the plaster and replace them. We found this product by accident on the net and it made all the difference. We installed it over the old ceiling only stripping the paper where it was lose. My husband did the installation and found it quite easy to do and th results are dramatic. We added the crown molding and the rooms took on a totally new look. We have gotten rave reviews from family and friends and have passed the site address to those who have inquired. This is truly a remarkable product and I am now looking at possibly another room and maybe the backsplash in the kitchen. Milan is tremendous to work with, great at follow through and answering any questions. Do not be afraid to order this on the net, the transaction was safe and secure and the product great. Thanks so Much, your product has definitely increased the value of our home. Robyn Cocoa, FL
We are the family that used your ceiling tiles in the kitchen of our B&B. The picture is posted on your site. We liked the outcome so well, that when our oldest son bought his first home, he renovated his 1910 kitchen and wanted to do the same. He painted his tiles a beautiful brick red, with a copper glaze over it, and it is beautiful! He is very pleased. Thank you again for a wonderful product. Shelly Minot, ND
Ceiling Tile Fillers
Ceiling Tile Moldings and Accents
Crown Molding
A few rules of thumb:
2" – 4" Crown Moldings►
Commonly used with 8′ Ceilings
4" – 5" Crown Moldings ►
Commonly used with 8′-9′ Ceilings
5" – 6" Crown Moldings ►
Commonly used with 9′-10′ Ceilings
6" – 7" Crown Moldings ►
Commonly used with 10′-11′ Ceilings
7" – 9" Crown Moldings ►
Commonly used with 10′-13′ Ceilings
9" – 24" CrownMoldings►
Commonly used with 14'+ Ceiling
We have color coded the crown molding so you can quickly gauge whether the molding will work with your ceiling.
20 DCT Styrofoam Crown Molding ► ………………. 21 DCT Styrofoam Crown Molding ►
22 DCT Styrofoam Crown Molding► ………………. 25 DCT Styrofoam Crown Molding ►
80 DCT Plain Styrofoam Crown Molding► .. 110 DCT Plain Styrofoam Crown Molding►►
130 DCT Plain Styrofoam Crown Molding ► … 100 DCT Plain Styrofoam Crown Molding►
12 DCT Styrofoam Crown Molding►
14 DCT Styrofoam Crown Molding►
17 DCT Styrofoam Crown Molding Dentil►
26 DCT Styrofoam Crown Molding ►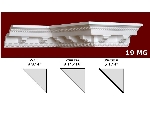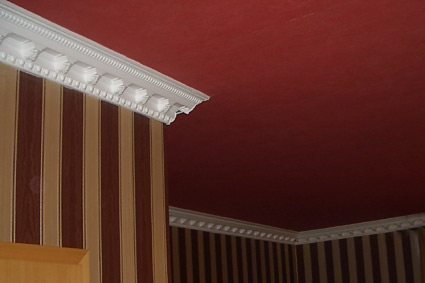 19 DCT Styrofoam Crown Molding►
M
ake It a Beautiful Day!