[ftc_disclosure type="disclosure"]
DIY Headboards
Turn a boring kid's room into a dream room by making your own cheap and chic no fuss diy headboards. The hardest part is narrowing down your options and choosing your tile style, design(s), and color(s).
We not only love that these headboards are easy to build, they are also easy to clean – just wipe them down with a damp cloth.
DIY Headboards Wall Panel Options
Option 1: Choose tin headboard tiles or faux leather wall panels. This is both a choice of aesthetics and budget.
Tin tiles are 24'x 24′ and range from $7.75/each to $49.00/each depending on the finish you choose. There are lots and lots of designs and colors available or you can paint your own to perfectly match your decor

Faux leather tiles are 15 x15 and cost $19.95 each. Style choices and colors are limited but they make a smart and sophisticated statement.
Option 2: Choose your panel design: Tin tiles, Faux leather tiles
Option 3: Choose your panel color or stick with tin plated steel and paint your own panels to match your decor. For example, if you paint your own you tiles your might choose to give the tiles an off- white crackled finish and then highlight tile design elements in your accent color. Another advantage of using tin plated steel is its magnetic qualities. Your child's headboard now doubles as a magnet board! The only caveat is that painting your own tiles will add a wee bit of effort and time to an otherwise no fuss, no muss project
Source: sometimesonatuesday.blogspot.com via Kim on Pinterest
Option 4: Decide how tall you want your dyi headboards to be. You can easily adjust the headboard height by moving your starting point. For example, if 2 tiles are not quite enough headboard but 4 tiles are too high just drop the first tiles further below the mattress line. (See below: "How to Build a Tin Panel Headboard in Under 1 Hour")
Option 5: Consider mixing and matching panel designs and colors if your room can handle at least 2 panels across and 2 panels high. For example, in my niece's room, since she has a double bed and we went up to the ceiling we used three different color panels, Amethyst, White, and Aquamarine to match her multi-color ribbon bedding. My daughter liked what she saw but wanted a magnet board so she chose to paint the tiles herself, pink, blue and orange to match her bedding.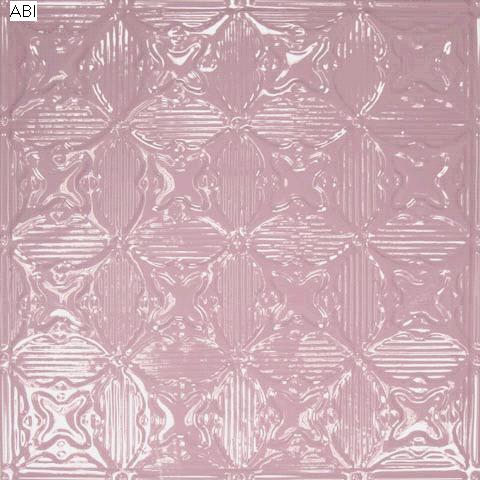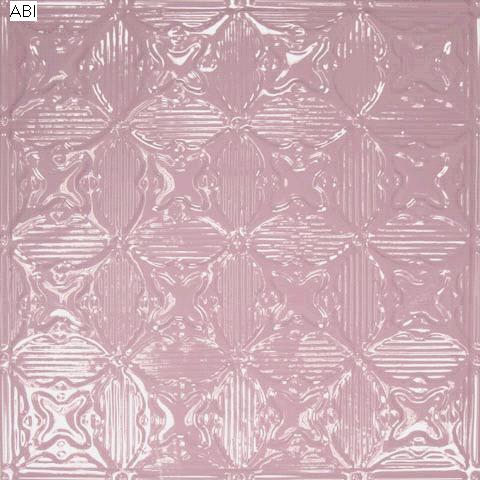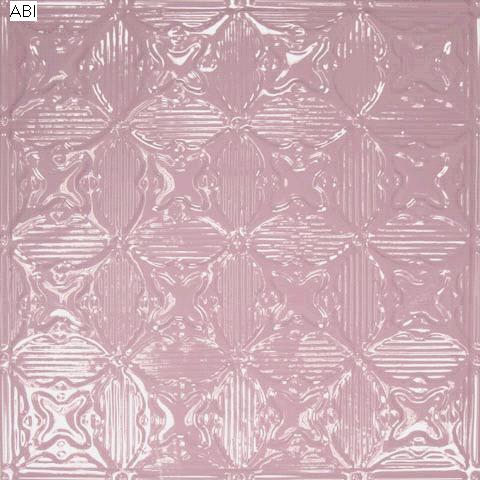 How to build a tin panel dyi headboard in under 1 hour:
Needed Materials: straight edge ruler, level (optional), pencil, removable Picture-Hanging Strips or Cone Head Nails, scissors
Once you order and receive the tiles, all you need to do is attach large 3M Command White Picture-Hanging Strips or better yet, nail them into the wall with Cone Head Nails. (The best way to attach the faux leather tiles is with hot glue gun!) Pencil a straight 48″ line (use a ruler and level) on your wall a few inches below the top of your mattress so the edge of the tile is covered by the mattress and exactly where you want your bed to be – either center your bed or push it to one side so that your headboard also frames your nightstand. Line the tiles up squarely on the line. Stick or nail the tiles to your wall. Since the tiles are 24 inches high by 24 inches wide you can actually get away with using just 2 tiles for a low profile stream-lined look. If not, simply add a row above the first row. 2 rows should be plenty of headboard unless you really want to make a statement — feel free to take the tiles all the way to your ceiling (that's what we did and it looks fantastic). Remember you can also adjust the headboard height by moving your starting point. For example, if 2 tiles are too low but 4 tiles are too high just drop the first tiles further below the mattress line. From start to finish the whole process should not take much more than one hour. How simple is that!
* I spoke with Milan over at Decorative Ceiling Tiles, Inc. and he says not to worry about the 12 unit minimum purchase requirement. He recognizes that most diy headboards require less than 12 tiles and is more than willing to do whatever he can to help make this diy headboard project work for you. If you have any questions, do not hesitate to give him a call – Milan has a wealth of product knowledge and has hands on installation experience, plus he is patient and funny! Just tell him Marcia sent you.
For inspiration — use a few tiles or lots — both looks are fabulous and chic!
Decorative faux leather panels!
New! University of Texas "Longhorn" Headboard & Bedding

2426 Tin Ceiling Tile – LONGHORN | Texas Bed in a Bag
If you order the tin plated steel tile and paint it orange (and white) – your diy headboards will double as a magnet board!
Nursery Themes and Fairy Tale Inspired DYI Headboards
New! Unicorn Theme Headboard & Bedding

More for the Unicorn| Horse Devotee: Horse Theme Party Planning, Gift Ideas, and Supplies
Butterfly Theme Headboard

& Bedding
Decorate the whole room in delightful butterflies or just use them as accent pieces to your favorite solid colored bedding. No matter which way you go, this butterfly diy headboards will take your room from ordinary to extraordinary in less than an hour.
Classic Butterfly Needlepoint Tin Ceiling Tile
More for the Butterfly Obsessed: Take Flight: A Butterfly Party Theme
Train Theme Headboard & Bedding
Toy Train Themed Bedding | More for the train lover: Train Theme Party Planning, Gift Ideas, and Supplies
Dolphin | Ocean Theme Headboard & Bedding
Tin Ceiling Tile -DELIGHTFUL DOLPHINS
More for water lovers of all ages: Surfing Theme Party Planning, Ideas, and Supplies
Dog Theme Headboard & Bedding
Tin Ceiling Tile – MANS BEST FRIEND
Doggone Good Time Quilt Set | Blue Dog Cartoon Print Duvet Cover
More for dog lovers: Puppy Party
Island Theme Headboard & Bedding
Tin Ceiling Tile -ISLAND OASIS
Island Themed Bedding | More Island Fun: Surf's Up!
Headboard & Bedding Inspiration and Ideas for Girls Rooms
Coordinate Tin and Faux Leather Wall Panels to your Favorite Tween and Teen Bedding
Headboard & Bedding Inspiration and Ideas for Boys Rooms

Add a matching magnet board. Buy one extra tin plated steel tile in the same pattern you have chosen for your headboard. Cut it with scissors to fit inside an 18″ x 24″ poster frame. Prime and paint it. Glue the tin tile to the cardboard backing. Hang on your wall.
OMG! Look what we found!
Ceiling Tin Bed: Sometimes, it is nice not to DIY. This bed uses the architecturally classic tin ceiling motif in a whole new way. Authentic punched-tin panels are the focal point of the headboard and footboard; Solid square corner posts accentuate the simplicity of design. Handcrafted in the USA of solid white pine. Choose from seven hand-rubbed, slightly distressed finishes. Available at Plow & Hearth
Painted Finishes: Antique White, Antique Red, Antique Black, Bayleaf, Cottage White
Stained Finishes: Honey Pine, Chestnut
Interested in replicating the bed frame pattern on your ceiling or making coordinating picture frames, or planters, bulletin boards, trash cans, or just about anything else you can imagine?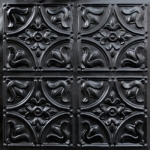 148 Faux Tin Ceiling Tile – Black | 205 Faux Tin Ceiling Tile | 148 Faux Tin Ceiling Tile | 150 Faux Tin Ceiling Tile
Make it a beautiful day!